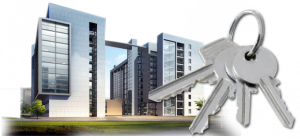 Locks and keys may not be the most important or popular things you own. But they protect some of the things that are most important to your, such as your business. To illustrate, imagine that you have up to a million dollars' worth of possessions but a faulty lock in place. As far as you're concerned, those possessions are as good as gone. Therefore, the first defense against unwanted guests in your building is having a locksmith that performs commercial locksmith services that can help at any time. Having good locks on the outdoor gates is a great start against thieves, burglars and unwanted elements in general. The condition of your gates initially determines how strong your security system is in your office and business.
Good gate security mitigates risk
If your gates need improvement or your locks are faulty, you're putting your entire businesses' security at risk. Additionally, you put your employees' lives at risk as well. Therefore, you will need the services of a professional locksmith to ensure that your gates are well secured and reliable. With this in mind, you want to ensure that you hire only the most experienced and qualified people to secure your gates properly.
In order to protect the lives of your employees and loved ones, you're going to need a locksmith that has years and years of experience in the field. Because letting an unqualified individual work on your locks could seriously compromise your company's security down the line. Another reason why you will most likely want to hire a professional locksmith is how affordable and efficient they are at their job. A professional locksmith, especially from a tested and trusted company like Woodland Hills Keys Services, will most likely offer you guided and professional advice that will help keep your security in top condition. Another thing that our locksmiths offer is around the clock service, no matter what time of the day it is. This beats calling an unprofessional, unlicensed locksmith any day.
Premium Locksmith Services:
• File cabinet Installation
• Commercial safes installation service
• Push bar Installation
• Installing and repairing CCTV cameras
• Commercial lock rekey services
• Keyless entry systems
• Upgrading and maintaining security systems
• Commercial lockout service
• Deadbolt locks installation
Qualified locksmiths at your service 24 hours a day
Therefore our guys at Woodland Hills Keys Services don't just offer you the best outdoor gates locks services. They will also offer you affordable, consultative, and available services at prices that won't break the bank.
So contact Locksmith Woodland Hills now at (818)732-4312